** This Christmas decor post contains affiliate links. I am compensated for purchases made after clicking these links at no additional cost to you. 
As I mentioned last week, the Christmas decor is out at the Flora house. It took me almost a week to put the tree up because I realized I wanted a new tree skirt and bows this year and because it's more challenging to put up a tree when you have a toddler who wants to grab everything! I'm sharing our Christmas decor this year, though we may add some things throughout the next month if we are inspired. I also need to finish the fireplace and order the girls' new stockings.
I bought a set of four buffalo print pillow covers ($20) for the pillows we already had, and I wanted the tree skirt to match. I also bought matching bows to spread throughout the tree. The bows came in a pack of 12 for $19.99. I reused the same ribbon and gold and red ornaments from last year. I replaced our broken tree topper with this $25 gold star that lights up. (It is not lighted up in this photo.) We also continued our tradition of hanging ornaments from our travels. New ornaments this year: One from Pictured Rocks in Munising, Michigan, and one from San Diego Zoo.
I found a couple cute $3 signs in the Target dollar spot for the kitchen and switched our pot holders to red and green for the season. One says Mrs. Claus Cookie Company and the other is a Gingerbread Baking Co. sign.
I already shared our affordable winter wonderland table decor as well. For more, read the post on our tablescape.
In the girls' bedroom we decorated our old tree from when G and I first began dating in 2011. We need to fix the top of the tree and add a topper. The ornaments are extras we have had, some from 2012! We let V decorate their tree, and she put some stuffed animals under it.
On the banister we wrapped two packages of garland and white lights and hung ornaments. The garland was $7.64 (plus tax) at Walmart last year.
For the front door I got a Home for the Holidays welcome mat for about $12.99, though it has gone on sale for less than that in recent days. If I find a buffalo plaid rug for underneath I will add that, but I am not worried about it since our outdoor rugs get destroyed in the Chicago winter.
That's all for now! I still plan to make a card banner using holiday cards we receive this year and decorate the fireplace a little better.
I hope this shows you don't have to spend a fortune to make your home festive. Have you decorated yet? Of course there's no wrong time to decorate if you do.
Shop this post**: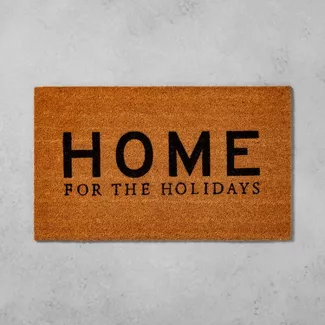 Shop similar items**:
Related posts:
CONNECT WITH ME:
Marette Flora is the founder of Floradise blog and personalized gift shop. Marette is a passionate storyteller and creator. She attended the Walter Cronkite School of Journalism at Arizona State University and obtained a bachelor's degree in journalism and mass communication.
She is passionate about creating helpful and meaningful things.