**This post contains affiliate links, but these are my honest opinions about the products. I will receive a small commission if you make a purchase after clicking on my link.
I'm also loving this palm tree print makeup bag I found at Marshall's.
April was a bit exhausting, but in a good way. Graham fulfilled a lifelong career dream, we celebrated Victoria's birthday early and I did my best to balance an overwhelming workload with my fitness and personal goals. I also tested some new beauty products and accumulated more empties, which I'll be sharing soon. (One recent purchase was the LA Girl luminous foundation, which I like so far. ) I am still making my mind up about recent buys, but I do have some favorites to share:
KL Polish in Miss Honey: Kathleen Lights described the color (pictured above on the left) as something Miss Honey from "Matilda" would wear, and I agree. It's become my everyday nail polish color since I bought it last month. I was looking for the perfect spring color, and this is it for me. It's cruelty-free as well. KL's website describes it as a warm, melon hue. This polish is long-wearing for me, which is saying a lot.
The Big One Gel Memory Foam Pillow (Side Contour): I don't know what I have been doing with my life, except not sleeping well. I switched to this pillow recently and have been sleeping much better. My head and neck rest comfortably on the pillow, which is contoured, so I don't need to constantly adjust the pillow during the night. I am getting much better sleep, minus the sinus issues I've been having. These are normally about $50, but I found them on sale recently for $15 and $25, both good deals.

DV Bailey Slide Sandals: I found these at Target (it wins again!) and when I saw the price tag of about $16, I had to get them. I was in need of new everyday, neutral sandals to throw on with many of my late spring and summer outfits. They come with yellow and black straps as well.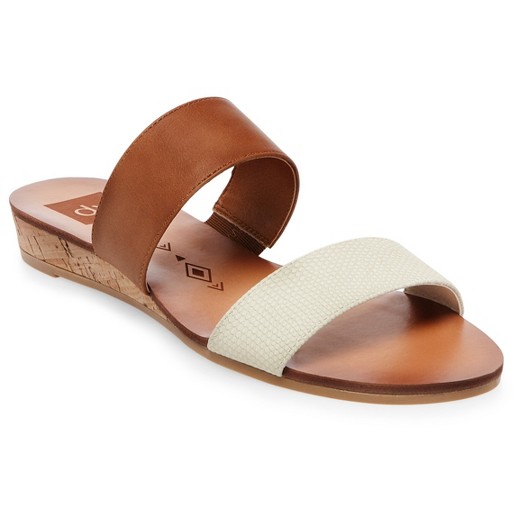 Army Green Criss Cross Front V Back Short Sleeve Top:
I was hesitant to order this because I was unsure of the quality for the affordable price, but I was not disappointed. It's a thicker material than you'd expect for $10 and it's comfortable and cute. I've worn it many times already. (I'm actually wearing it as I type this, too.) It comes in maroon, black, blue and yellow, too.
Wrappily:
I love the fabulous prints offered by this eco-friendly and reversible gift wrap company, which is based in Hawaii. I shared more about it in my last post, so I won't go into too much detail here. P.S.
There's still time to enter the Wrappily giveaway!

What have you been loving lately?