** This post contains affiliate links. I am compensated for purchases made through these limks at no additional cost to you. Thanks for supporting Floradise!
Last weekend was special because we celebrated V turning 5 with a unicorn theme party at our gym. V requestaed a unicorn theme for her 5th birthday and I did my best to make her request come true on a budget. Because we spent a bit to reserve a gym and bounce house, I didn't go overboard with decor, but I wanted to share some of my favorite affordable unicorn party purchases since the theme is quite common nowadays.
Unicorn tablecover and plates: I found these at Target for a decent price of $2.50 each. There are many more items in this design, like cups, napkins and decorations, but I didn't want to buy more than necessary like I did with her sister's party.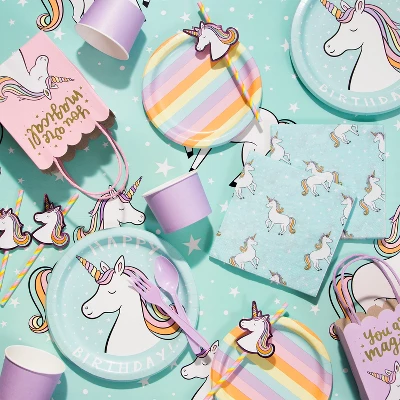 Unicorn party favor bags (16 pack): I found these on Amazon, and they match the plates and tablecover.
Unicorn invitations (12 pack): I usually prefer custom invites, but I wanted to cut back on costs since we had the venue rental and a big birthday gift planned. These double-sided invitations were under $9 and were super cute!
Unicorn cake topper kit: She wanted a unicorn cake and I wanted to make it in the easiest way possible. I found a unicorn cake topper kit online and then ordered a plain, round white cake with unicorn theme border. I just placed the lashes and the piece with a horn, ears and flowers on the cake and I was done! Tip: Request at least two layers and flowers and then place the lashes on the side of the cake. I didn't do this but know now I should have. I still think it turned out cute, though. This topper set only costs $6.96!
Unicorn two-piece outfit: I featured this post in my recent collaboration with Walmart on its spring fashion. She wanted to wear it on her birthday, of course! It's under $12.
Of course, you can find a lot more unicorn party ideas, but I'm sharing a few great purchases I made to inspire some ideas.
Related posts:
CONNECT WITH ME:
Marette Flora is the founder of Floradise blog and personalized gift shop. Marette is a passionate storyteller and creator. She attended the Walter Cronkite School of Journalism at Arizona State University and obtained a bachelor's degree in journalism and mass communication.
She is passionate about creating helpful and meaningful things.