This shop has been compensated by Collective Bias, Inc. and its advertiser. All opinions are mine alone. #OwnWhatYouEat #CollectiveBias
In 2018, confidence is in. For me, it's all about confidence in what I want to do and who I am. In the new year I am shifting my priorities yet again to make room for the new addition to our family. I learned to shift my priorities and find balance when my husband and I adopted Victoria, but now I will do that once again when our daughter is born in late April. The aim for 2018 is to find a new version of balance for myself and to more importantly have confidence in sharing those plans and aspirations without fearing judgement. My pregnancy has reminded me of my goal to work for myself and provided extra motivation to really own 2018 by making moves I should have made long ago to get there. I already enjoy the flexibility of working from home — or anywhere — but now I want to take that further by gaining more freedom to spend time with my growing family. As I realign my priorities and put more focus on my freelance work, I want to share some of the steps I am taking and share tips on how to own your choices and reprioritize in 2018.
How to own your choices and achieve your goals in the new year:
Start by writing down your perfect day in the next five years. I began doing this years ago during my yoga-teacher training. Revisiting this exercise helps refocus your vision when you lose sight of the result you want. Be as specific as possible. Then write down goals you can accomplish in the next year to help you work toward that goal. One mantra I have had in the past is the following quote: "Do something every day that brings you closer to your goals." For me, this can be checking network sites for opportunities, pitching directly to brands, networking or enrolling in a class to improve my skills.
Make a list of people/resources that can help you achieve your goals. This can be books, classes, mentors, or even foods that make you feel nourished and your best. For me that starts with Special K® snacks and cereal to give me the protein I need to fuel my day as well as cereals to start my day on the right foot. It also includes incorporating self-care into my daily routine in addition to working tirelessly on my career goals.
Create a vision board and set a routine. Hang it to over your desk/dresser/etc. that can remind you of your goals and priorities. You can also do this electronically. I like to pin articles related to self-improvement on a Pinterest board that I often navigate to for inspiration. Surround yourself with inspiration in the form of quotes, mentors, or images, whether in your planner, on your phone screen's wallpaper, or on your walls.
Seeing quotes as I open my planner first thing in the morning puts me in the right mindset. I also make sure to begin my day with Special K® cereals, including my favorite Chocolatey Delight, which can be found in the cereal aisle at Target. My recent morning routine includes not checking email or starting work without finishing my breakfast.
Hover the image below to start shopping for your perfect breakfast! My most recent Special K purchase included Special K® Red Berries Cereal (12 oz), Special K® Chocolate Delight Cereal (13.1 oz), Special K® Nourish Coconut Cranberry Almond Cereal (14 oz),
Special K® Red Berries Bar, and Special K® Protein Peanut Butter Chocolate Bites.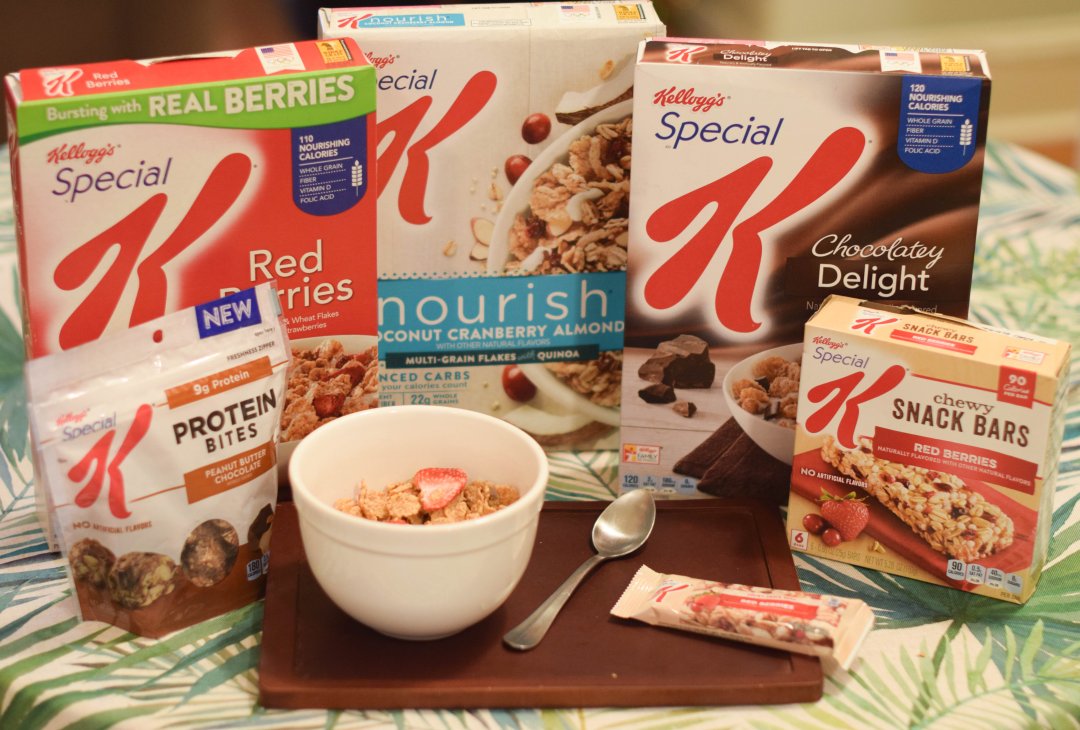 Throughout my workdays I've also been enjoying the Special K® Chocolate Protein Bites, which have 9 grams of protein, and the Red Berries Chewy Snack Bars. These keep me satisfied while trying to tackles my to-do list as a work-from-home mom.
Make a game plan. Break your yearly goals into monthly goals and set deadlines. Identify items/activities you can delegate to others/outsource. (Maybe it's hiring a cleaning service or using a grocery delivery service.)
Make a list of distractions to avoid and activities to "declutter" from your life. This could be people, social media profiles, and to-dos that don't get you closer to your goals and aren't essential.
Let go of caring about others' opinions. Share your plans/goals/priorities freely and confidently. I am doing just that with this post, but I try to also share it in conversations with people around me. Put your vision out there confidently!
Try and try again. When you feels like you've failed at something, it's really just a teaching moment. You are learning what doesn't work so you can reprioritize, readjust and can keep going in a new direction.
Practice single-tasking. For each day or each week, consider focusing on just one goal. Focus all of your energy on it until it's accomplished, then move on to the next step/milestone. I have been practicing time blocking in my planner so designate time to only one task at a time and conduct batch work. For instance, when I take blog photos I try to shoot everything I need for the week's posts in one sitting. When freelance writing, I try to only focus on those assignments while avoiding social media scrolling.
Measure and reward your successes. I use my planner's notes sections to periodically write updates on my goals and track my blog, freelance and social media growth. I also use spreadsheets to track income and expenses, and to keep track of my ideas and any potential work I would be interested in.
Most important: Don't compare yourself to others! I am a firm believer that there is enough room for everyone to succeed at what they want to do. I can make my plans to freelance write and edit a reality without feeling threatened or less successful than another person who does the same. Also, our paths to our version of success won't look the same: People have different visions, resources and goals.
In what ways do you plan to own your choices and goals in 2018? Share your thoughts with me in the process. If you try any of these Special K® products I mentioned, let me know what your favorites are and visit the Special K® website to learn more about how you can own your choices in the new year!
Connect with Kellogg Special K®:
Check out the Kellogg Family Rewards page to find great Kellogg deals!
Kellogg Special K Facebook Page | Kellogg Special K Instagram
Check out these great Special K® deals:
From 12/31/17 to 1/6/18: Select Special K® Bars and Cereals are 2 for $4 at Target!
From 11/1/17 to 6/1/18: Get a free Swell water bottle with an empowerment message on it via Kellogg® Family Rewards when you purchase any combination of three participating Kellogg® Special K® products between 11/1/17 and 6/1/18. Receipts must be submitted by 7/1/18.
Click the image or here to learn more about the Kellogg® Family Rewards offer for a free Swell water bottle with purchase of three Special K® products!
Marette Flora is the founder of Floradise blog and personalized gift shop. Marette is a passionate storyteller and creator. She attended the Walter Cronkite School of Journalism at Arizona State University and obtained a bachelor's degree in journalism and mass communication.
She is passionate about creating helpful and meaningful things.