** This post contains affiliate links. I receive a small commission on purchases made after clicking these links at no additional cost to you.
I was excited to see a new release from Gabrielle Bernstein on the Audible app in September. I feel like I was guided to hear it at the right time. You don't need to have listened to "The Universe Has Your Back" or her other books to understand "Super Attractor." Super Attractor: Methods for Manifesting a Life Beyond Your Wildest Dreams teaches a process for manifesting that I have found to be helpful after struggling with negative thoughts this year.
She guides on how to try to minimize low-energy, fear-based thoughts with the choose-again method: Notice the thought, forgive the thought and choose again. This means that we choose a loving thought and our energy is redirected. I love her approach on how to move up the emotional scale to a better emotion. You don't necessarily need to go from depressed to happy in one jump; any movement up the ladder is good.
"Many of us don't even realize that feeling bad is a decision we've made," Bernstein says. A key reminder: Don't wait for life to give you reasons to be happy; you have to choose happiness and gratitude on the way to manifesting what you want. The goal is not to achieve something but to have fun along the way, she says.
More takeaways:
Guarding your energy is key. That means if you want to manifest money, don't hang out with people who complain about money all the time. Also you won't hear any guidance, whether spiritual or from a friend, when you're in a spiral of negativity.
My biggest takeaway from Bernstein's Super Attractor is adding "or something better" to your desires. This leaves open the possibility for creative solutions/outcomes you didn't even think possible.
Her guidance includes meditations, journal prompts and other information found on Gabrielle Bernstein's website.
She even teaches her daily design method in which you ask yourself: Who do you want to be today? How you want to feel today? What you want to receive? What you want to give? It involves visualizing what you would like to happen so that you are a co-creator of your day.
If you're a fan of Gabrielle Bernstein's other books, you will likely also enjoy this one. She wrote it during her pregnancy and the book often touches on her journey to conceive. She appropriately ends it the day before she was scheduled to be induced and the afterword was written after giving birth. It feels like we are a part of her journey to become a mother and her learning to trust the process and timing of it all.
Shop the book**: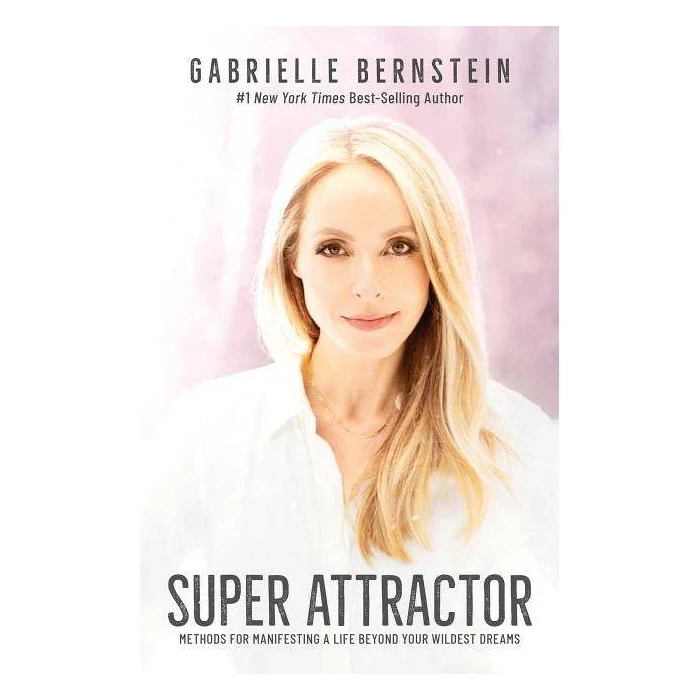 Related posts:
CONNECT WITH ME: