** This post about my Cricut projects contains affiliate links. I am compensated for purchases made through these links at no additional cost to you!
If there's a positive that has come out of quarantine, it's that I am now the proud owner of a Cricut Maker. I have wanted to purchase one for some time, because I love to DIY and buy personalized gifts. When the lockdown began I became inspired to share some of the creations I make.
Here are some of the projects I've been making using my Cricut:
Flower shadow box: This is the most time-consuming project but I am really proud of what I've made. I plan to make another for the girls' bedroom and for gifts this year.
Customized reusable cold cups: This is one of my favorite things to do. I try to advocate for using reusable cups and customizing them for people can help persuade them to do that. It also creates less waste. In pre-pandemic times, Starbucks would give a discount for bringing them, but that is on pause for now. I hope it returns soon. My favorite cup to make is the graduation themed cup.
Shirts: I purchased matching family shirts for A's birthday and then realized I could simply make my own whenever I wanted if I had a Cricut. I then made us family shirts for V's birthday the following month. I have also made a shirt for my father-in-law for Father's Day and a couple of onesies for friends and family. To do this I also purchased the Easy Press 2, which is 9 by 9 inches and irons on the vinyl.
Cake toppers: I am excited to not have to purchase cake toppers for birthdays and other occasions anymore because I could likely make them myself. I have some cute cardstock that I plan to use.
I recently launched some of these creations on my Etsy shop. (Shameless plug!)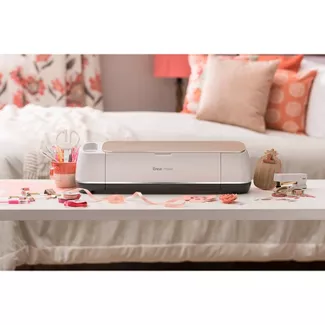 CONNECT WITH ME:
Marette Flora is the founder of Floradise blog and personalized gift shop. Marette is a passionate storyteller and creator. She attended the Walter Cronkite School of Journalism at Arizona State University and obtained a bachelor's degree in journalism and mass communication.
She is passionate about creating helpful and meaningful things.