** This closet organization post contains affiliate links. I am compensated for purchases made through these links at no additional cost to you. Thanks for supporting Floradise!
I would love to have those perfectly organized and customized closet solutions that you see on Pinterest, but it's not really a priority in our home renovation budget right now. Our closets are spacious but they lack shelving other than the top row, which is too high for me. I found some ways to keep my clothing and accessories neat and organized while not spending a ton of money. These are working well for me in the meantime and have made it easy for me to find what I need. My simple and affordable closet organization ideas:
I needed drawers to organize things such as socks, sports bras, swimsuits, hats, packing cubes/bags, and these three-tier gray storage containers have been working well. They were about $17 each; I purchased two. (The gray is not available online but can be found in stores. It's also available in black and brown.) A new dresser was not in the budget at the moment, but if we ever get one, or invest in a closet system, these can be used to store other belongings in our home, like tools or toys.
All of my shoes fit in a hanging shoe organizer. It's not my favorite way to store shoes but it works and saves space.
On the wall in the closet we hung a white hook rack for my scarves and the backpack I use for travel. This hook rack was super easy to install and was affordable at about $16.
I hang all of my clothing with white hangers except my workout attire, which all fits in one dresser drawer with my pajamas and loungewear. (As the white plastic hangers break I plan to replace them with wooden hangers that last much longer.) I organize each item by color. I don't put away clothing each season in boxes because all of my clothing for all seasons fit with plenty of room to spare in our closet. Keeping a minimal wardrobe makes it easy to keep it organized. On the top shelf I currently have baby items I am keeping for Adelina or any future children, for now.
That's about it! All you can see, I don't have a ton of stuff. I'm constantly reevaluating things I own and decluttering anything I no longer want or need. How do you keep your clothing organized?
Shop affordable organization items**: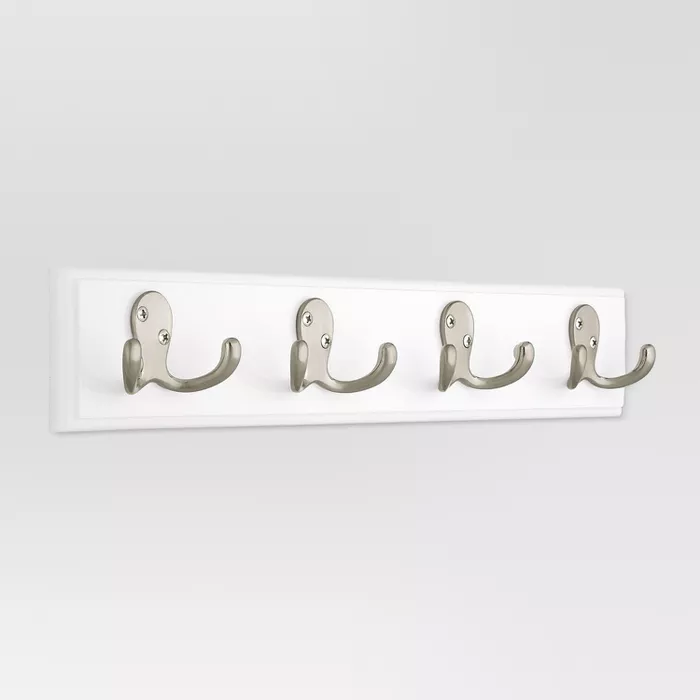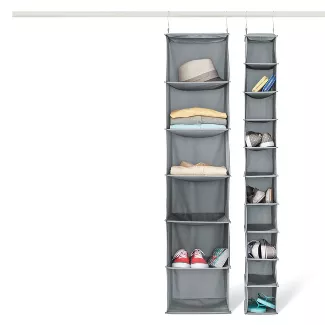 Marette Flora is the founder of Floradise blog and personalized gift shop. Marette is a passionate storyteller and creator. She attended the Walter Cronkite School of Journalism at Arizona State University and obtained a bachelor's degree in journalism and mass communication.
She is passionate about creating helpful and meaningful things.