My most recent Audible listen is "Lightly: How to Live a Simple, Serene and Stress-Free Life" by Francine Jay. What intrigued me about this audiobook is that it's not just about decluttering, it's about simplifying in all aspects of life. It's about making relationships, daily life, your home — everything — lighter. I found this came into my life at the perfect time. I'm sharing some simplifying lessons I learned from her book, which I highly recommend!
First she offers some decluttering advice we've heard before: Empty a space completely, start with a clean slate and consolidate like items. But she differs from well-known tidying gurus by offering specific advice for how to live more lightly in all areas, not just possessions. She advocates having a smaller environmental footprint by eating "lightly" and making more eco-friendly choices (with specific ideas). She also shares why you should do less and spend your time more intentionally. She encourages setting yourself up physically, psychologically and financially so that a big loss won't ruin your life. She suggests watching how you speak and thinking about what you say.
More lessons:
Use your best stuff now. I've been trying to do this more and more. I would save nice dresses for special occasions when I should just wear them if I like them or want to keep them. I completely agree with this. Life is too short to never enjoy your good stuff.
Living space is not storage space. "It should reflect what you do rather than what you own."
Consider how you will dispose of each item you buy.
Give yourself permission to not do it all. Do less. Say no to more things.
Change your expectations and standards about your pursuits. Where can you give up perfection? As a recovering perfectionist this resonated with me.
Evaluate your view of success. Are you comparing your success to others'?
You don't need to share all of your opinions.
We all need to lighten our impact because the Earth's resources are finite.
This is more than just a guide on how to simplify your belongings. Sure, she offers guidance on what to keep in your home, like figuring out which kitchen utensils you actually need, but she also shares ways to simplify your life and live more serenely. "Lightly" is designed so you can easily navigate to the section of your life/home that needs simplifying and read or listen to that chapter. I recommend this to anyone feeling like they need to cut out unnecessary distractions from their life.
Shop the book**:
** This post contains affiliate links. I am compensated for purchases made through these links at no additional cost to you. Thanks for supporting Floradise!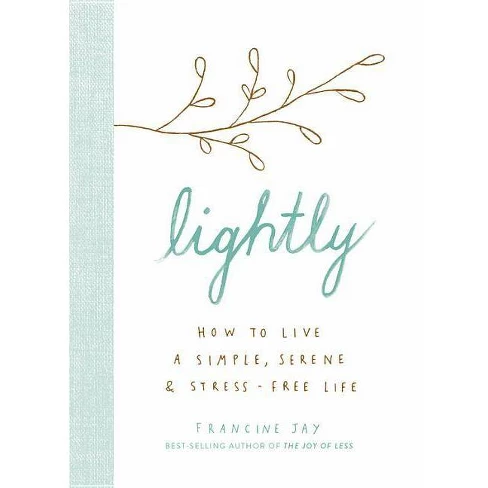 Pin this post:
Related posts:
CONNECT WITH ME:
Marette Flora is the founder of Floradise blog and personalized gift shop. Marette is a passionate storyteller and creator. She attended the Walter Cronkite School of Journalism at Arizona State University and obtained a bachelor's degree in journalism and mass communication.
She is passionate about creating helpful and meaningful things.