I mentioned last year that we canceled our trip to Puerto Rico right after the hurricane because the island was hit hard (No hotels were available at the time.) and pregnant women are advised not to travel to places affected by Zika. We ended up with Southwest Airlines credit to use before it expired at the end of June. I didn't think I would be able to use it after giving birth, but we asked ourselves, "Why not?" This is our how our first experience flying with a 2-month-old came about over Father's Day weekend.
We booked a quick weekend trip to Phoenix so that Adelina could meet my side of the family and we could check up on our condo. To say I was nervous to fly with a 2-month-old is an understatement. I was terrified she would cry incessantly because of the ear pressure change or that she would be fussy the entire flight. (We typically don't worry about V because she is an expert flyer by now.)
Here's how it went:
We got a late start heading to the airport. We booked a parking spot at the airport on SpotHero, which I've written about as a great source of cheap parking, especially in the Chicago area. (If you use my referral link you get a $7 credit and I get $7. Win, win!) This required a shuttle ride to the airport, so my first tip would be to give yourself at least an extra hour to get to the airport and through security than without kids. It was valet parking, which I recommend to save time. We also brought our stroller, which allows V to stand or sit on the back and connects with our infant car seat. This stroller** is great if you have a toddler and a newborn!
Security wasn't terrible; we went through the family line. Remember to put all your breastmilk and formula in a clear bag and in its own tray for security check. The stroller and car seat had to go through the scanner, which we weren't prepared for. (Last time they let me push the stroller through with V in it!) Second tip: Take your time and feed your baby before you go through security. I gave A a quick snack feed because she was starting to get fussy.
We got on the plane during family boarding and headed toward the back of the plane. I wanted to be near the bathroom and on the aisle in case I needed to change her. Tip and something I wish I had done: Keep a small bag of what you might need handy, or put everything in the same pocket so you're not fumbling around on the plane. I had diapers, changing pad, paci, wipes, nursing cover and bottles in different pockets of a backpack, and it was not that easy to find what I needed in the dark. It would be easier to set up mini packets of what you might need for feedings, changings and entertaining.
As far as travel times, we went with flights that were around the kids' bedtimes. This was a gamble because Addi has been fussy before bed lately, but luckily she wasn't. I made sure she napped enough during the day and was well fed. I rocked her in the stroller while waiting in the line at the airport and she fell asleep for a bit. Tip: Go with flight times that work best for your baby. If your baby is happier and sleepier at a certain part of the day, that might be the best time to travel. Try not to travel during the busiest times at the airport, either.
My last tip is to go hands-free. We gate checked our stroller and car seat and Addi was my lap child. She was in my carrier for most of the time but I also just held her. Don't try to carry too much other stuff. Learn from my mistake: I spilled a venti Starbucks drink on the plane because I had too much stuff in my hands.
Overall the first two flights went well! The most stressful part of the trip was getting to the airport with enough time, and that was our fault for not leaving earlier. As long as you allow enough time, it's fine!
Have you traveled with a baby? What tips do you have for my future flights? Share with me in the comments!
Related posts:
Shop Our Stroller**: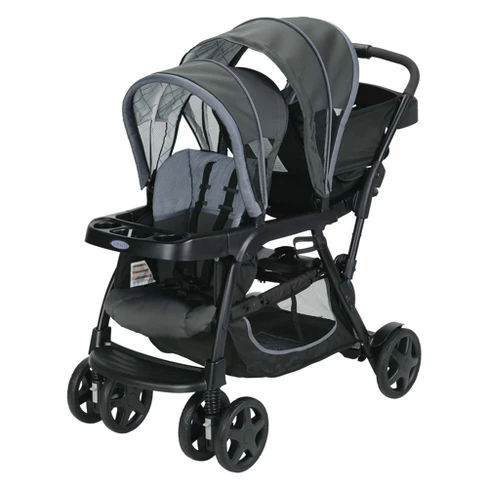 ** This post contains affiliate links. I am compensated for purchases made through these links at no additional cost to you. Thanks for supporting Floradise.
Marette Flora is the founder of Floradise blog and personalized gift shop. Marette is a passionate storyteller and creator. She attended the Walter Cronkite School of Journalism at Arizona State University and obtained a bachelor's degree in journalism and mass communication.
She is passionate about creating helpful and meaningful things.