** This post about "Under the Influence" contains affiliate links. Floradise is compensated for purchases made through these links at no additional cost to you. Thanks for supporting Floradise.
About two years ago, Noelle Crooks, who used to work for Rachel Hollis, announced she was publishing a book called "My Life With the Mogul," which was supposed to be about the self-help guru. The book never came out. Instead, Crooks wrote "Under the Influence," a fictional story that some say has hints of what it was like to work for the Hollis Co. in its heyday. "Under the Influence" is about Harper, a NYC girl who is offered a job working for an influencer's almost-cult-like company in Nashville.
I listened to the audio book hoping to read some insights into the real-life personal development influencer. Charlotte, the Rachel Hollis-esque influencer in the book, does things like ask her team to take "inspiration" from smaller designers for her own collection. She competes with her husband. She also takes Harper's personal story and recipe and calls it her own.
Some parts of the story were reminiscent of "The Devil Wears Prada," especially when Charlotte asks Harper to go to an event over the hard-working Bella, who really wanted to go and would be heartbroken over it.
Instead it's a story full of clichés and cheesy dialogue. The book even veers toward romance novel at some points.
There's a chapter in which Harper is stuck in Nashville, missing Christmas with her family and her best friend's engagement party, because of a snowstorm. She has nothing to do but spend the evening with Aaron, the guy she likes from the office. The relationship would be totally inappropriate in a workplace setting, but my issue is the way they spoke to each other — the way every character spoke, actually.
Example: "Harper laughed nervously. 'Who knew Nashville was so dangerous?' 'It's not all cute cowboys and charming influencers.' Aaron said."
Who says that?
Another example: At one point Aaron also calls Harper a "hot shot New York City girl." Do people say hot shot?
The narrator changed her voice for each character. Charlotte sounds so over-the-top in the audio version. The narrator's portrayal reminded me of Lucille Bluth from "Arrested Development."
A major problem I had with the writing is that the author has a habit of showing and not telling. Instead of describing a character's actions, she tells us.
In scenes she writes things like "Making both him and Harper laugh" and "looking at Oliver, questioningly." Why not describe them laughing, smiling, or scrunching up their face? It all sounded like a bad '90s sitcom.
It's possible I would have enjoyed the book more had I read it rather than listened to it on Audible. But the writing was still riddled with clichés.
Have you read this book?
Shop the book**: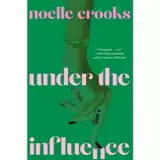 Marette Flora is the founder of Floradise blog and personalized gift shop. Marette is a passionate storyteller and creator. She attended the Walter Cronkite School of Journalism at Arizona State University and obtained a bachelor's degree in journalism and mass communication.
She is passionate about creating helpful and meaningful things.